WEB SITE OF THE TURKISH CONSTITUTIONAL LAW
---
Kemal Gözler, Judicial Review of Constitutional Amendments: A Comparative Study, Bursa, Ekin Press, 2008, XII+ 126 p. [http://www.anayasa.gen.tr/jrca.htm] (Dec. 20, 2008)
---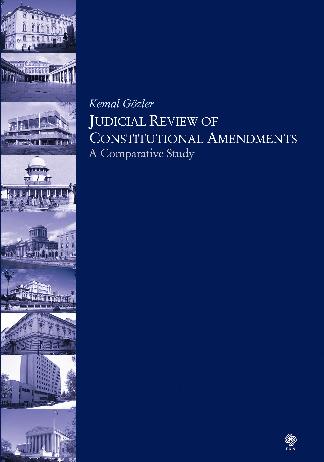 This monograph is an attempt to answer the following questions: Can constitutional courts review the constitutionality of constitutional amendments? If yes, to what extent? It is endeavored, in a comparative perspective, to answer these questions by examining the constitutions of several countries and the case law of the Austrian, German, Hungarian, Romanian, Slovenian and Turkish Constitutional Courts, French Constitutional Council, Indian, Irish, and the United States Supreme Courts.
---
---
Court decisions that cite this book.
Books & articles that cite this book.
Other materials that cite this book.
---
© Kemal Gözler, 2008. All rights reserved. No part of this book may be republished or redistributed, by any means, electronic or mechanical, without the prior written permission of the author. However you may print a single copy of this book solely for your personal, non-commercial use. You may also download and save this book on your hard drive to view it offline, for your own use.
---
Click the links below to buy a hard copy of this book:
http://www.amazon.de/Judicial-review-constitutional-amendments-comparative/dp/9944141739
https://www.amazon.com.tr/JUDICIAL-REVIEW-CONSTITUTIONAL-AMENDMENTS-G%C3%B6zler/dp/9944141739/ref=
http://www.hukukmarket.com/kitap/135561/judicial-review-of-constitutional-amendments.html
---
E-mail: kgozler[at]hotmail.com
Home: www.anayasa.gen.tr
Creation Date: Dec. 20, 2008
Last Updated: August 27, 2012